0 Marikina Condos For Rent or Sale
For price list, model house, floor plans, payment terms, chat live with an agent 24x7.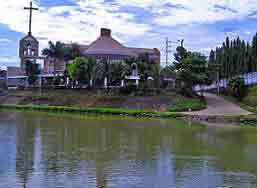 Marikina
Marikina. located on the island of Luzon in the Philippines, is one of the cities that make up Metro Manila, the National Capital Region. Marikina was the capital of the Province of Manila from 1898 to 1899. Located along the eastern border of Metro Manila, it is bordered on the west by Quezon City, to the south by Pasig and Cainta, to the north by San Mateo and to the east by Antipolo, the capital of Rizal province.
Marikina was given the title Shoe Capital of the Philippines because of its notable shoe industry, being the biggest manufacturer of shoes in the Philippines, producing almost 70% of shoes manufactured in the country. The Philippine International Footwear Center is located here where top quality shoes can be found.
Marikina is the main gateway of Metro Manila to Rizal Province as well as Quezon Province. It is one of the most awarded metropolitan cities in the Philippines, including the prestigious "Most Competitive Cities in the Philippines" awarded by the National Competitiveness Council in 2003 and 2005.
The financial resources of Marikina is scattered all over the city, but the southern part is primarily concentrated which includes business establishments and commercial facilities, while the northern part is factories and warehouses. Riverbanks Center is the city's commercial center situated southwest of the city where shopping malls and recreation areas are located. Real estate, commercial developments and numerous commercial establishment along Marcos Highway and Sumulong Highway are developing. Famous restaurants, cafés, diners and entertainment bars are more contributed to the city's economy. These establishments are concentrated in Gil Fernando Avenue, J. P. Rizal Street, Bayanbayanan Avenue and Lilac Street.
SM City Marikina is currently the largest shopping mall in the city, while Riverbanks Center, a community shopping complex situated near Marikina River is a popular outlet store in the eastern Metro Manila region.