0 Tagaytay Condos & House and Lot For Rent or Sale
For price list, model house, floor plans, payment terms, chat live with an agent 24x7.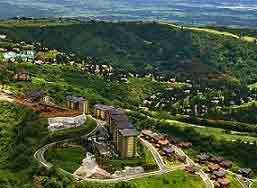 Tagaytay
Tagaytay is one of the country's most popular tourist destinations because of its outstanding scenery and cooler climate provided by its high altitude. Tagaytay overlooks Taal Lake in Batangas and provides one of the iconic views of the Philippines, the view of Taal Volcano Island in the middle of the lake, viewable from several vantage points in the city.
Tagaytay is relatively close to the capital city of Manila, only 55 km (34 mi) away via Aguinaldo Highway, providing an easy escape for the locals from the heat of the huge metropolis.
Tagaytay is considered to be the second Summer capital of the Philippines with the first being Baguio due to its cool climate thus is a favored destination from those relatively more humid areas of the Philippines. Tagaytay is also a popular destination for tourists seeking a panoramic view of Taal Volcano and the surrounding lake.
Tagaytay is linked by national highways to the Metro Manila area and to the provinces of Batangas and Laguna.